PHALGA PRESS RELEASE
_Saturday 24th December 2022_
CHRISTMAS: SIR ALLWELL IHUNDA ADVISES CHRISTIAN FAITHFUL IN PORT HARCOURT TO USE THE YULETIDE TO BE CHRIST-LIKE BY SHARING LOVE AND GIVING JOY TO ALL IN LINE WITH THE INJUNCTIONS OF GOD ALMIGHTY
Mayor Of Port Harcourt City, Sir Allwell Ihunda has urged Christians in Port Harcourt and all over the world to use the yuletide to be Christ-like by sharing love to their neighbors in line with the injunctions of our Lord and Saviour.
The Mayor's statement was contained in his Christmas message to the people of Port Harcourt City Local Government Area, and issued from his media office.
He advised all Christian faithful to discourage violent conflicts and remember the love, peace and sacrifice that Jesus Christ epitomises.
He added that we cannot move forward as a country until we all realize that we are first Nigerians before our religious beliefs, political leanings and cultural affiliations and as such, we should respect one another by living in peace and harmony.
He urged the people of Port Harcourt to extend hands of love and fellowship to their neighbors and live as one big family irrespective of social, political and religious leanings, also continue to trust in God for a better tomorrow.
He reiterated the commitment of the people of Port Harcourt to support all candidates of the PDP in the State come 2023 general elections and follow the directive of Gov Nyesom Ezenwo Wike as regards the presidential election.
The Mayor wishes the people of Port Harcourt City a Merry Christmas and a prosperous new year in advance.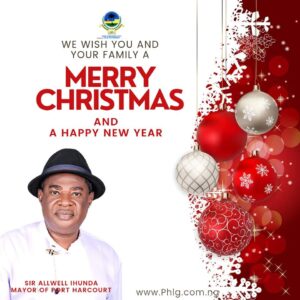 Signed:
Bob Abayomi,
Chief Press Secretary,
Port Harcourt City Local Government.