HAPPY BIRTHDAY TO AN EXTRAORDINARY LEADER.
I,Sir Allwell Ihunda JP,on behalf of my family and the entire people of Port Harcourt City Local Government Area,heartily felicitates with an extraordinary and inspirational leader,Rt Hon Austin Opara OFR,DSSRS,KSC,JP, Dike Aji Ezen'mba Rebisi Kingdom,Former Deputy Speaker Federal House Of Representatives,on the unique occasion of your birthday celebration.
Your leadership has meant so much to us in Port Harcourt City Local Government Area.
I thank you for making such a positive impact in the lives of those around you,also for proving yourself to be a leader of high ethics and morality.
Thank you for your service to our nation,also your relentless support for the Administration of our Indefatigable Governor,Chief Nyesom Ezenwo Wike.
You are an inspiration,also a fantastic role model to us.
I hope you enjoy many more years in divine health and prosperity so you can keep up your good works.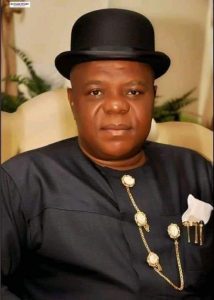 May God continue to guide and guard you,also avail you with sound mind,happiness and grace always.
Once again Happy Birthday our beloved leader,remain favoured.
Enjoy your new age and congratulations..
Signed
Sir Allwell Ihunda JP
Mayor,Port Harcourt City Local Government Area.
29th August 2021.